cloé, you're a consultant at itecor since early 2023. how would you describe working at itecor?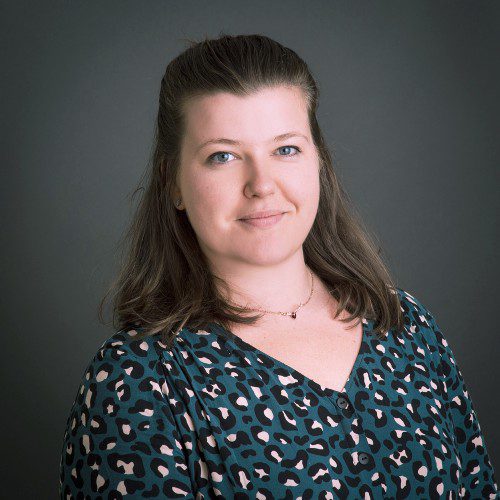 In general, I look for companies that go beyond mere appearances and truly embrace a human touch. I appreciate their attentiveness, the opportunity to fully live my passion, and their recognition of the value of every individual. If I had to describe it in one word, it would be "uncompromising." To me, bringing my expertise is not limited to technical skills alone but also encompasses my unique personality. I am whole and taken as such.
As a consultant, I am not just a resource for clients. I am an individual whose voice and unique personality are heard. I am committed to engaging in projects that allow me to make a meaningful contribution, utilising my skills and interests to the fullest.
what inspires you in life and your profession?
Above all, I am passionate about human beings. In my work, I am motivated by the desire to harness technology for the service of humanity. I understand that this can be a complex task and that resistance to change is often prevalent, especially in the field of IT, both in the private and public sectors.
Throughout my professional journey, from entrepreneurship to consulting and project management, I have gained valuable experience in various domains, including administration, semi-public companies, and the public sector.
IT consulting allows me to explore different companies, contexts, and management styles. I gain accelerated learning experience, having the opportunity to work closely with numerous clients, sometimes equivalent to the experience of fifteen years in just five years.
In the projects entrusted to me, I uphold values that are dear to me. Courage is essential, as it takes a lot to succeed and find fulfilment in the consulting profession. I dare to take positions without alienating clients, always remaining true to myself. Active listening and proposing are also crucial, even when faced with challenges.
you have a very specific sports practice. could you tell us more about it?
I practice powerlifting. In 2021, I won the world medal in my category in Porto. I train 4 or 5 times a week, which means that I have to combine my work with my discipline. I generally start work fairly early in the morning to free up time at the end of the day.
how does this sport contribute to your professional success?
As a female athlete, I know what it means to dare and push my limits.

Effort and perseverance are defining qualities of my character, and I apply them daily in my work as a consultant. Sports have taught me patience, as progress is not always immediate. It helps me give the necessary time for results to materialize, whether in sports or my professional endeavours.
My critical thinking and ability to learn, test, and recover from failures are valuable assets in my field.
cloé, you joined itecor in 2023 as a consultant. why itecor?
I chose Itecor for several reasons. First, it's a human company whose values match mine. I was also recommended by people who already work at Itecor. What's more, proximity and accessibility are aspects that speak to me. I feel listened to and supported within the company.
Itecor is also highly friendly. The team regularly organises activities to suit everyone's tastes, like the relaxation moments we spent as a team during a weekend in Zermatt at the spa. Respect for individuality is an important value at Itecor, and I've been able to experience it for myself, which is exactly who I am. Sport during the week and relaxation at the weekend!
as a woman, how do you view consulting?
I am aware of the underrepresentation of women, especially in higher-level positions within the IT industry. However, I see this as an advantage and easily integrate into predominantly male environments. It is my personality and skills that bring a positive dynamic, a warm smile, and genuine concern for others.
I acknowledge that there is work to be done in promoting gender equality. Women must dare to take positions in IT, even when expectations are not set for us. Willingness and discipline are required to carve out our space. I have personally contributed to awareness actions, such as collaborating with the SEM association to eliminate gender biases and conducting interventions in schools in La Chaux-de-Fonds to promote gender equality.
Gender-related matters are close to my heart, as I firmly believe in unlocking everyone's potential and eradicating gender biases. Knowledge knows no gender. I fight for the collective and take pride in representing my club, association, and company. I am convinced that together we can achieve great things. My convictions lie in finding common ground, where we listen, respect one another, and find solutions that bring happiness to all.
In the end, I believe I am more than just a consultant. I bring my expertise, personality, and commitment to everything I do. My goal is to make technology truly beneficial to human beings while upholding my values. I am confident that I can contribute to creating a world where women have a rightful place in the IT industry. I am ready to face any challenge and accomplish great things, as these are the convictions that drive me.