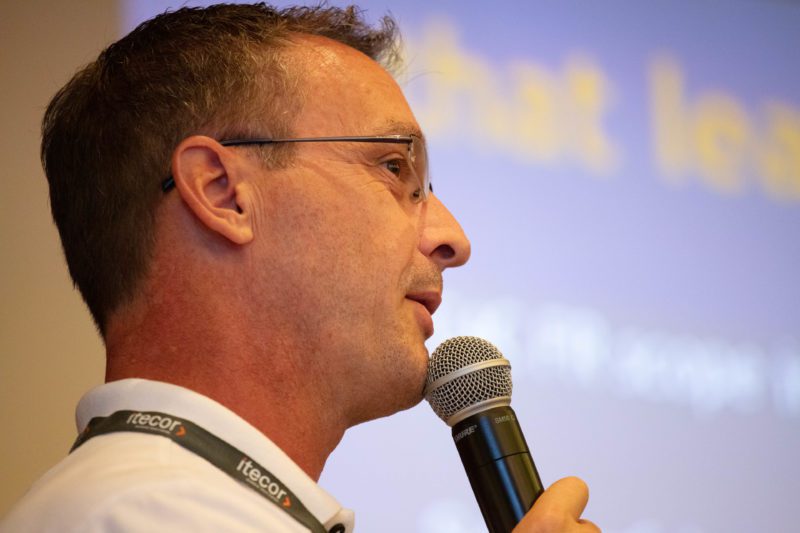 For more than 10 years, Itecor has had this atypical profile among its forces: Jason Quillian, from the bilingual city of Moncton in New Brunswick. Let's just say it straight away: Jason knows how to have fun as well as how to work. And he works well. He is a seasoned professional, unfailingly reliable. He has been through the whole Software Development Life Cycle (from unit testing to UAT / Trials), and today he delivers demanding mandates for the Itecor Barcelona office. Portrait of this very international Canadian.
from consultant to senior consultant
Since he completed his studies in 1995, starting in IS/IT testing in 1997, Jason has continuously explored the world of testing. An International Software Testing Qualification Board (ISTQB) certified Test expert, Jason has experienced working in a variety of industries: finance, telecommunications, media, broadcasting, web and gaming / gambling across the Software Development Life Cycle, from unit testing to UAT / Trials.
He joined Itecor in 2011 as one of four Senior Managers in Vevey Switzerland. There he was active on Engagement management of client missions, managing a team of 12 consultants of varying expertise, experience & location. His strategic and tactical skills involved him as a consultant in the area of testing / QA.
He joined Itecor's Barcelona office in 2019. His main challenge has been to deliver IT Project Management for Nestle SA's Marketing, Sales and eBusiness Team. In this business area, he manages a small, offshore team to deliver changes and projects to the SAP C4C CRM solution used by Nespresso's B2B and Trade department.
At stake: managing priorities agreed by the business, in close collaboration with Nespresso's ERP and middleware teams.
He also delivers C4C as a CRM solution to a German health science company acquired by Nestle in 2020. C4C, along with Nespresso's bespoke ERP solution will replace a system which no longer meets the business' needs and also leverage SAP's CPI middleware solution instead of Nespresso's middleware solution.
truly international in his experience
After 11 years in the UK and almost 3 in Australia, and having just started a family, Jason and his wife decided it was time for a change and wanted to be somewhere in Europe where they could enjoy the outdoors. An opportunity came up to work with Itecor in Switzerland, so he seized it.
Today a Senior Consultant at the Itecor's Barcelona office, Jason makes the most of Spain, its great weather and a rich, interesting history and culture and friendly people. You can always go out in evenings (and night) and see people having a good time, chatting, smiling and laughing. In his opinion, it's one of the best value places to live in Europe.
"This year, I'll literally have spent half of my life working and living abroad. I've met so many people from many different countries – from countries I've lived in or visited, from other countries who also came to the same country to work on the same projects and those I've had the pleasure of working with remotely. It can almost be like travelling without leaving the office when you have those moments where you get a few minutes to be social and learn about the people you're working with. There's always interesting stories and fun facts to learn."
jason by himself
How did you come to testing?
«I have sort of always been attracted to IT. I bought my first computer in 1982 – a Commodore Vic 20, with a whopping 4KB of RAM. At that stage, you had to learn programming to do anything with a computer. At university, I started in IT but programming didn't appeal to me, and I didn't want to sit in front of a computer all day and found business more interesting. I ended up with an Economics degree. I went for a 2-month summer working holiday in Scotland after finishing university and ended up working as an admin assistant for a small Test Team in a bank. The Test Manager noticed my computer and analytic skills and asked if I'd be interested in learning what he does. I figured why not and after 6 weeks, he offered to be a reference and I quickly landed a contract in London, which started my career in IT. Sometimes, life just leads you down a path…"
What makes our approach different from the other IT consultancies?
"The approach we have at Itecor is pretty standard in my opinion – define the scope, budget, timeframe, the team, etc. to come up with the plan. It's the execution that's probably different and that's down to me as an individual. I treat others as I like to be treated – enable me to perform my role, don't micromanage, be friendly & polite and try to have fun whenever possible while taking the objective serious. Listen to understand problems and hear the options available for consideration. I think what is different is personality. I believe I'm a friendly manager who listens when required but also a firm decision maker. I'd rather make a decision and discover quickly if we're on the right path than spending endless hours discussing something. Of course, sometimes in-depth analysis is the best way to proceed…"
What do you enjoy the most in your job?
"Definitely working with people who have a similar, professional but friendly approach to their job. A friendly, well-spirited and collaborative team is always a highlight for me."
What are the daily challenges (both personal and professional)?
"Having enough time to do everything desired is always a challenge, especially in larger companies where collaboration with a large number of people results in a large number of meetings, taking away time that would otherwise be spent delivering. So, trying to make sure I only attend meetings that I add value to or get value from is important and of course prioritising my work. There's always more that can be done so prioritising is my best way to focus on what needs to be done. Working from home can be a personal challenge. It has its benefits, but they can come at a cost. Without a commute, it can be hard for me to switch over mentally from work mode and hard for my family to appreciate that I may need a bit of time after turning off the computer to turn off the IT consultant in me."
jason's key achievements
• Manage a project, while coaching a peer on project management, introducing C4C as the CRM solution for Bodymed, integrated with Nessoft via CPI.
• Leading a small but geographically diverse, remote project team.
• Supporting a successful transition of offshore service suppliers.
• Criteria definition & driving the stabilization of the Nespresso SAP C4C B2B solution, deployed in over 20 markets.
• Working with various business & IT stakeholders around the globe to understand their business needs & manage the IT deliverables to meet them.
• Coordinating deliverables from various internal Nespresso & Nestle IT teams and external suppliers.
• Defining & managing multiple, parallel projects' budgets, activities, timelines and quality.
• Introducing a more structured, quality-focused SDLC.
• Managing the Nespresso IT and market acceptance testing phases.
• Managing the delivery of the change backlog, production fixes and optimization deliverables.
• Managing the rollout of the SAP C4C B2B Sales solution to new markets.
• Project management to pilot the Nespresso C4C Service solution.
the value of consulting as a senior
Most projects require direct access to the best available expertise. At Itecor, we value knowledge. It is at the heart of our ability to provide value to our clients. Like all our consultants, Jason provides the link between our corporate knowledge and our clients. He draws on the wealth of expertise that we have developed as part of our long-term investment in knowledge management. Jason acquired new skills and develop his expertise continuously over the last decade with many trainings and certifications such as ISTQB Expert and the ITIL Foundation.